GroundSchool - Canada
Prepare for your Transport Canada Private Pilot, Recreational Pilot, PSTAR, and Instrument Rating (INRAT) exams. A range of items both for people who want to convert from Canada to FAA and FAA to Canada. For PC, iPhone™, iPad™, and Android™.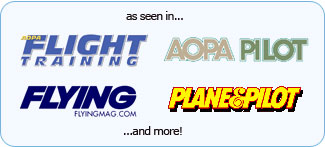 Mar 30 - Great iOS Apps!


I want to say thank you for such an amazing software. As a professional flight instructor, I have recommended your software to 5 of my previous students, and each one has passed the FAA written with flying colors. It's by far the most effective way I have found to study, so thanks!




Mar 29 - High praise from a faithful user!


I wanted to write you to thank you for creating such a fantastic product and a fair EULA!

The flight school that I am using recommended that I purchase [competitor's product]. After reading that they only allow activation on two computers I found theirs to be an unacceptable solution. I am a computer programmer and am constantly reformatting my PCs due to hardware/software upgrades. I asked [competitor] if they would allow me an exception to the two activations, and they quickly told me NO. I told them I would look elsewhere, as their activation policy is not only unfair, but unpractical. (Unfortunately, people who steal software ruin it for the honest users, and this is how some uneducated companies hastily respond)

I quickly came across your solution while doing a search on the internet. Your product is fairly priced, very well written, provides free upgrades and most importantly allows the "registered owner" the ability to install the product on whatever PCs they choose. Please keep up the great work, and I wish you much success!

PS - I told my flight school about your product suite and showed them the demo application on my notebook. They really liked what they saw and are now going to start sending students your way.




Mar 27 - 100% - As good as it gets!


Just wanted to say thanks for creating such great products. I scored 100% on my private pilot knowledge exam and passed the orals with ease, mainly because of the time I spent with your ground prep and Ride Ready products.

100%? Wow, that's excellent! Congratulations, pilot, for passing the checkride and thank you for the solid endorsement. We're glad we could help.




Mar 26 - IFR and FCC Success!


Since I last wrote to you guys, I used your Five by Five software to train myself to pass the FCC's ham radio test and get a Technician class license. Much more recently, I finished up my Instrument-Airplane rating last week. I bought and used your IFR GroundSchool product as my main method of preparation for the knowledge test, and it worked great. So anyway, I just wanted to drop you a note to say thanks a million for the awesome products!

Rare indeed is the 'Renaissance Man' like BG here who manages both aviation and FCC challenges. We're glad we could help you on your way.. great work!




Mar 24 - More Fundamentals of Instruction Success!


I definitely will be using this software in the future and have benefited from it a lot. I like that you can read the explanations follow the right/wrong answers in study section. Even when the answer is correct, you can confirm your understanding and understand why the FAA wants the answer that they do.




Mar 24 - 100% on FOI!


I am happy to report a score of 100% on my recent FOI exam - the first time I have ever achieved such a score on any FAA exam to date. Thanks!




Mar 24 - 97% on the Private Pilot Written!


I took the FAA Private Pilot written exam today at a CATS center. I got a 97% due in large part to using the study and testing features of the Ground School program, along with having read the material. One important tip for other test takers using the new supplement is to always make you own nautical miles scale using the edge of a piece of paper marked with the chart legend itself, rather than using your plotter (which will be inaccurate). Thus one can avoid many mistakes. Thank you!




Mar 20 - Military Competence Written Test - 100%
S McC of Odessa, Florida wrote us today:

I purchased the MCA test prep. Outstanding program! I passed with a 100%.

The MCA test is the one that allows US Military Pilots to transition to civilian pilot certificates. Our GroundSchool software can prepare people for this as well as all the standard FAA written tests. Congratulations, sir!




Mar 20 - FAA Knowledge test success times six!
RR of Greenwell Springs, LA wrote us today with his tale of outstanding results:

Took my 'Flight Instructor Instrument Airplane' test last week and got a 100%! Took my Airplane Instructor test this past Monday and got a 96!

I have taken six tests now using your software and the lowest score I received was a 95%.

The tests were for FOI, CFI, CFII, and ATP Helicopter and now these two recent ones. Not only did [GroundSchool] help with the tests, but it helped for my checkrides as well.

I have to mention this - I was taking my test along with someone taking their tests for Instrument Airplane. I scored a 100% and the poor guy failed his test. Of course, this isn't funny, but he just returned from a flight school where he spent $1500 and this was the result.

This software really does make a difference. Thanks!

We are in awe, sir, of your spectacular results and thank you for the feedback. We're glad that we were able to help!




Mar 17 - Helicopter Instructor Tests Mastered!


I've purchased most or all of your helicopter knowledge test prep software. A couple days ago I took the IRH helicopter instrument exam, missing 3 and scored a 95. Since that went well I decided to take the IGI and missed 4 for a 92. I passed the AGI in Nov 2014. Already being a CFI-H, and even though I hadn't done any studying or practice exams specifically for the FIH I thought it was probably the same pool of instrument related questions so I then took that one too. I missed 6 for an 88. Not as good as I hoped, but still passing and those 3 are all out of the way now. I've used your software for every written exam I've taken, and will continue to do so. Thanks!