Note: To get a product description of SimPlates, see the main product description page. SimPlates ships on a PC-DVD (DVD-ROM) in a standard amaray (DVD-movie) style case. It's an attractive box and an even better looking product inside.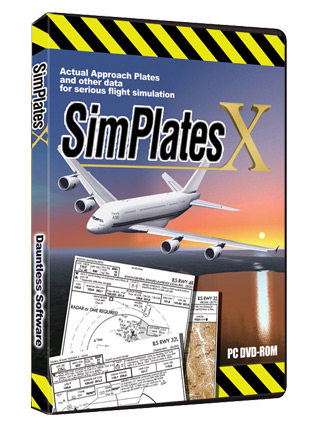 "Just installed SimPlates and am extremely impressed. Jeppesen is waste of time and money by comparison"
- GP, SimPlates Customer, Unsolicited Feedback.
SimPlates X is available for wholesale purchase:
for North and South America Customers:
We have designated VMax flight systems as our exclusive North and South America distributor. Marty at VMax is knowledgeable and fair.
Please contact VMax as follows:
Vmax Flight Systems, Inc
5853 Atlanta Highway - PMB 242
Montgomery, Alabama 36117
Voice: +1(334) 514-8391
USA and Canada: 866-514-8391
Fax: + 1(334) 514-8370
Email: Vmax@simpilot.com
Web: www.simpilot.com
for Europe and Asia Customers:
you are welcome (encouraged, even) to purchase from Marty at VMax as well. However, under certain circumstances you may want to, for whatever reason, deal with us (dauntless software) directly, as we have a limited ability to warehouse some quantity of items in the UK. In general, though, we encourage all to do business with Marty at VMax if possible, as he is better set up to handle wholesale shipments / billing / etc than we are.
---
ALL RETAILERS - Important!!!
We're here to help you at every step of the way. If you, as a retailer, need support with artwork, text, evaluation copies, press releases, reviews, or what-have-you, do contact us. We want this product to get out there and be as popular as we know it can be. We are NOT a company that leaves you high and dry--we're committed to this and all future products and want to help YOU. If you have any issue, feel free to contact us via our helpdesk.
Thank you!